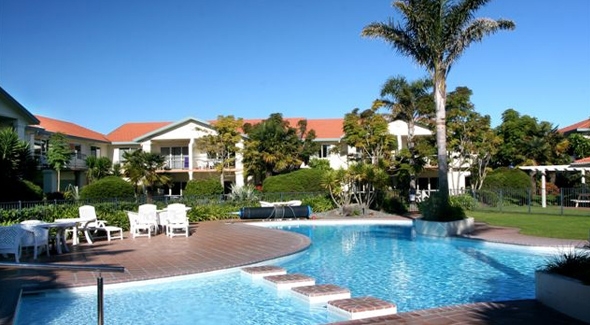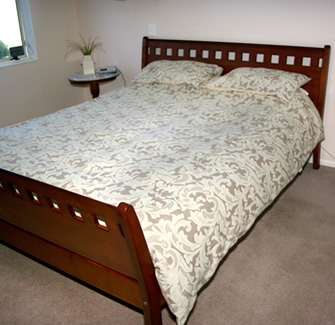 Booking Information
As well as short-term stays, we provide the option of fully furnished comfortable apartments for weekly, monthly and longer-term stays (limited availability). If you are between houses, or in the western Bay of Plenty to study or work short term, or you have just arrived in the area and wish to settle in, Pacific Palms offers flexible accommodation and a fantastic opportunity to live the dream seaside lifestyle in Papamoa. Whether staying overnight or longer term, Pacific Palms Resort provides all the advantages and freedom of a home-away-from-home, combined with the convenience and features of a resort.
Pacific Palms Resort will individually quote the best rate for your length of stay and the time of year. This rate is quoted on either a weekly and per night basis. Weekly tariffs are subject to availability and have a minimum stay required. A minimum stay of 6 weeks is required to qualify for a weekly tariff. Weekly rates are not applicable during the peak summer period.
A contract is required and conditions apply.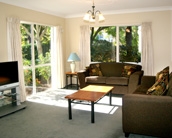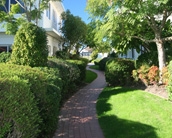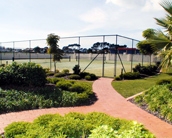 Pacific Palms Resort Policies for your information:
Confirming a Reservation
All reservations require a current credit card number, plus expiry date as a guarantee.
To secure a reservation a deposit of 20% is required.
The name that will appear on your statement will be PACIFIC PALMS RESORT.
When making a booking, you agree to accept responsibility for adhering to all policies and rules of Pacific Palms Resort as set in the Pacific Palms Resort Body Corporate rules. You also agree to read all information provided, and you will ensure that all those who stay with you are aware of our policies and rules.
Cancellation/Refund Policy
For direct bookings, a 20% deposit is required to secure a booking (per apartment). If a booking is cancelled outside of 30 days of arrival then the deposit will be refunded. There will be a $30 admin charge applied. If a booking is cancelled within 30 days of the arrival date no refund of the deposit will be applicable.
All rates are quoted in NZ dollars on a per night basis and include 15% GST. All accounts must be settled directly with Pacific Palms Resort in New Zealand dollars at the start of the stay. For online bookings, the first night will be charged to the provided credit card within 14 days of arrival. This is non-refundable. Should we be unable to successfully process this, the booking may be cancelled immediately. The prices indicated are per apartment, for the total number of people and the date(s) selected previously. Children under 1 year of age not utilising a bed are free of charge. A bed must be allocated for all persons over 1 year of age. Rates are dictated by the number of people staying, not per room. If booking from overseas, exchange rate fluctuations may affect the price charged to your credit card dependent on when payment is made. This means that because we are based in New Zealand your booking is converted to New Zealand dollars at the exchange rate on the day it is processed.
Extra persons are charged at $20 each per night, including children. No refund is given for early departure. NB: Balance of full payment is payable on check in.
Refunds will be made only in the manner in which the payment was initially made.
For bookings made for stays during long weekends, school holidays, statutory holidays and the days between Dec 20th and January 31st of any year the following applies:
If you cancel a booking within 48 hours of the arrival time, the total amount for the booked accommodation will be charged, less the amount of any nights Management is able to on-sell.
While our best efforts are made to meet guest's requests for particular apartment numbers/types we are unable to guarantee this at any time.
Cooking: In consideration of future guests we respectfully request that you do not cook odorous foods in the units. On your departure, if required we will engage a specialist cleaning company; and reserve the right and may charge such costs and any resulting loss of income.
Smoking: There is to be NO smoking in rooms. We reserve the right and may charge such costs for cleaning of the room and any resulting loss of income. Smoking is permitted outside the apartments only and butts must extinguished in the ashtrays provided.
Pets: Pets are not permitted on our grounds at any time. This includes visitor's pets.
Visitors: Management must be advised if you have visitors. Visitors must leave quietly prior to 10pm. We are not permitted to have more than 6 persons in a 2 bedroom apartment and 8 persons per 3 bedroom apartment at any time. (This includes children and infants). Your visitors and guests are not permitted to use the resorts' facilities and they must abide by the terms of this agreement and by the Body Corp. rules. Failure to do so may jeopardize your right to occupy the apartment. Please introduce your visitors at reception, so that management knows who is on site at all times.
Car-parking: Each apartment has either a garage or a carport or at least 1 park space by their apartment. Whilst on site, your car should be parked in the garage or carport. Should you have a 2nd car or a visitor car, there should be room for parking near your apartment. Please check at reception.
Boat/trailer parking: We have a couple of spaces allocated for boats/trailers. These parks must be booked and are available only to those who have arranged these with management. (Subject to availability.
Noise: We have a 'no noise' policy from 10pm until 8am. Outside these hours noise should never be of nuisance to other residents. Suitable respect must be shown to other residents and guests of the complex at all times, so as not to cause inconvenience or upset to their lifestyle, and in accordance with the rules of the Body Corporate.
For a full copy of the Body Corporate Rules please contact Reception.
Failure to comply with the conditions of the contract and / or Body Corporate rules may lead to notice to vacate the apartment immediately.
Privacy Policy
Last updated: 29 October 2018
Pacific Palms Resort operates http://www.pacificpalmsresort.co.nz (the "Site"). This page informs you of our policies regarding the collection, use and disclosure of Personal Information we receive from users of the Site.
We use your Personal Information only for providing and improving the Site. By using the Site, you agree to the collection and use of information in accordance with this policy.
Information Collection And Use
While using our Site, we may ask you to provide us with certain personally identifiable information that can be used to contact or identify you. Personally identifiable information may include, but is not limited to your name ("Personal Information").
All captured credit card data will be stored and managed by Payment Express, a PCI certified payment gateway. When a guest makes a booking via our website they will be prompted to enter their card details to complete their booking. These card details are tokenized and sent directly into iBex and allocated to the booking. Note this does not charge the card.
Log Data
Like many site operators, we collect information that your browser sends whenever you visit our Site ("Log Data").
This Log Data may include information such as your computer's Internet Protocol ("IP") address, browser type, browser version, the pages of our Site that you visit, the time and date of your visit, the time spent on those pages and other statistics.
In addition, we may use third party services such as Google Analytics that collect, monitor and analyse this.
Communications
We may use your Personal Information to contact you with newsletters, marketing or promotional materials and other information.
Cookies
Cookies are files with small amount of data, which may include an anonymous unique identifier. Cookies are sent to your browser from a web site and stored on your computer's hard drive.
Like many sites, we use "cookies" to collect information. You can instruct your browser to refuse all cookies or to indicate when a cookie is being sent. However, if you do not accept cookies, you may not be able to use some portions of our Site.
Security
The security of your Personal Information is important to us but remember that no method of transmission over the Internet, or method of electronic storage, is 100% secure. While we strive to use commercially acceptable means to protect your Personal Information, we cannot guarantee its absolute security.
Changes to This Privacy Policy
This Privacy Policy is effective as of 29 October 2018 and will remain in effect except with respect to any changes in its provisions in the future, which will be in effect immediately after being posted on this page.
We reserve the right to update or change our Privacy Policy at any time and you should check this Privacy Policy periodically. Your continued use of the Service after we post any modifications to the Privacy Policy on this page will constitute your acknowledgment of the modifications and your consent to abide and be bound by the modified Privacy Policy.
If we make any material changes to this Privacy Policy, we will notify you by placing a prominent notice on our website.
Contact Us
If you have any questions about this Privacy Policy, please contact us.

Contact
Address: 21 Gravatt Road, Papamoa,
Tauranga, New Zealand
reservation free-phone
Book Online
Enquire


Amenities and Affiliations